Our dearest daughter was at nursery today, which gave me a wonderful opportunity to declutter our entrance hallway while the dearest son was sleeping. This space is a huge, huge hotspot for collecting all kinds of stuff. Everything that needs to be taken out of the house ends up here and sometimes gets stuck. Things that need to be taken upstairs usually live here as well as things that don't really have a home to speak of. The latter usually end up there because it's the messiest area of the house, so one more piece of junk won't matter! And this is where visitors come in! It doesn't give a very good impression of the rest of the house, does it?
The photo above shows the view from our living room, before and after, and this next couple show a kind of birds-eye view, before and after.
Seriously, why would I need to keep the box for my new hairdryer on the radiator shelf? It was there for well over a week! ::shame:: I just kept walking by it and thinking, "I'll throw that away when I 'do the hall.'" Erm... I wouldn't have to 'do the hall' if I stopped thinking things like that and actually moved stuff when it presented itself as being surplus to requirements or in the wrong place!
And now, of course, you can see what the decor actually looks like, since it wasn't too long ago that we decorated this room. Please forgive the stairgates and orange doors though. The stairgates are an ugly necessity and the orange doors are on that list of "things to spend our money on" but we haven't got there yet. I would like to paint them all white and get new brushed aluminium handles.
Before we moved into this house we had to paint and recarpet everywhere. The house was rented before we bought it and the previous tenants smoked, so everything smelled of smoke. The walls were all manner of crazy colours and so were the carpets. Oh, and let's not forget that gorgeous (blech!) pine cladding that was all over every ceiling upstairs.


So here's the downstairs hallway before we moved in.
Then after we had recarpeted and attacked it with magnolia...
... and now after being able to decorate properly.
Hello! Not a very flattering photo of me in that last one, but just pretend I'm not there. :o)
Now going upstairs...
The photographs displayed on the stairway.
... and last but not least. The landing before we moved in.
After magnolia-ing.
And now.
I feel like I should make some points.
The pushchair lives in the cupboard under the stairs, so it's not like I just moved it for the photos. It really does have a place! I would never take items away just for "staging" because that's not painting a true picture of how I've got things organised or arranged in a space.
We love the laminate flooring in the hallway. It was carpeted before, but it soon got filthy with us bringing the pushchair in all the time. Switching to laminate means it's so much easier to keep the floor clean.
The before photos aren't that great at showing all of the room, but it was before I had my 'big' camera with a slightly wide-angle lens.
I used scrapbook papers to make a few things pretty. Some of the photo frames on the stairs have scrapbook paper in there and also the key hooks too. Those key hooks were in the sale from Habitat and were only £1.50 a pair! The papers are DCWV Latte Paper Stack.
The HUGE mirror used to be in our bedroom, but i decided it would look better in the hallway. I think it really opens up the space and makes it look a lot larger than it is. It's the Hovet mirror from IKEA.
Thank you so much for reading!
Loves,
Sarah. x
I've linked this post up to...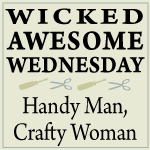 Look What I Made
@ Creations By Kara